I'm really trying to build a habit of doing routine things in a patient and thankful way. I'm not good at it. My usual way of doing things is ignoring something until it makes me crazy then working impatiently and furiously until it's done. That makes everyone around me unhappy, including me. So I'm trying to work on consistency and patience in everyday things in life.

One of those things is working on my yard little by little and not spending a whole weekend on overkill trying to do everything. It's been a very wet and rainy spring and the weeds have gone crazy, so right now I'm working on filling one bucket with weeds daily. I didn't do it perfectly last week, but I did make progress.

I'm going to start the bucket a day as my Patience Project until the yard is under control. I'm thankful that I have a yard that is well watered and mine to care for. I just need to tend to it in a consistent way. My impatience is being highlighted every week in the Sermon on the Mount study and hopefully praying over it, being thankful, and working little by little on other things in life will help. Yuck.
Patience Project:
One bucket of weeds, 4x a week. This week I did 2 out of 4.
Blog
I'm trying to work on patient consistency in blog posts too (this has always been hard for me becuase I'm used to blogging about whatever hits me in the moment… or skipping long weeks). This week I'm counting this post (I really want to do this weekly!) and I also did a two part interview with a wonderful lady who worked through the Sermon on the Mount Beatitudes Study and what she gleaned from it. Part One is here and Part Two is here. I also did a Q&A about the study (that is half off until Monday). The first part of the study is the Beatitudes Workshop, and the second part takes you through the rest of the Sermon on the Mount.

Next week I hope to post about the new pages in my Homestead Notebook (including one nature study page that I had a wonderful time doing!) and the next sermon in the Spiritual Depression Series by Martyn Lloyd-Jones (it's titled Fear of the Future).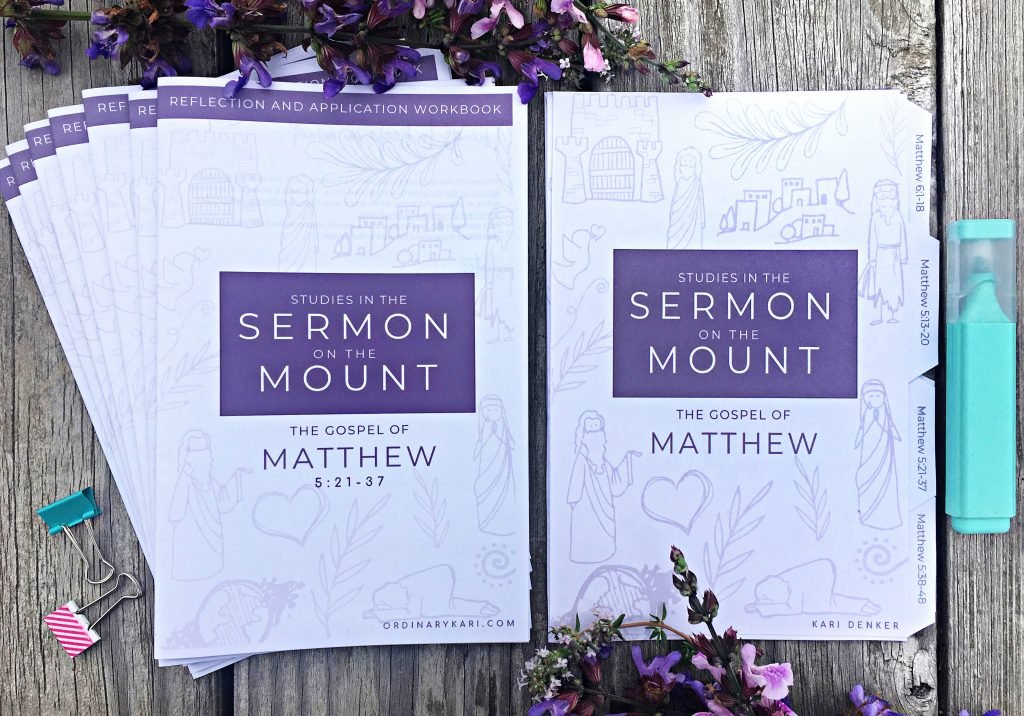 Meditate
A friend shared a verse with me this week. It was in the Living Bible translation, which made it read a little differently (and painfully):
Watch out! Don't let my sudden coming catch you unawares; don't let me find you living in careless ease, carousing and drinking and occupied with the problems of this life, like all the rest of the world."

Luke 21:34 Living Bible
It has been like God has been gently tapping me on the shoulder telling me to be patiently occupied with Him, not the work I have to get to, not the problems, not the worries, but Him. So I'm repenting and praying and still trying to do the little things with patience and thanksgiving.
Quarter 2 goals
There's 5 weeks left in quarter two of 2022! That means I should be moving along with my goals for the year. I've made some progress, but am also slipping on some things. I'll do a more in depth look at my goals at the end of the quarter, but I need to get back on track with the Great Photo Cull of 2022. I went through all the photos in boxes under our bed and culled about half of them. By the end of this quarter I want to have all the physical photos left in the house culled and at least one box of photos made for at least one son. I've decided to go the box route rather than a photo album and I have already ordered the first box. I think the boys will like this better than a stack of albums…? After the physical photos are sorted and ordered, then I move on to the overwhelming task of organizing and culling all the digital photos. Ugh.
Bible Study
I just finished working through the book of Acts in the I Will Meditate journal and it was wonderful! Such a timely book to study today. I'll post more on it later, but that means I only have the book of Ruth to finish and I'll be through I Will Meditate Volume 4 and moving on to Volume 5!
I'm also working through Freedom from Procrastination by Barb Raveling. I'm a huge fan of all of her very practical Bible studies and this one has been a huge help with my Patience Project. I'm soooo bad at procrastinating, and this is a good encouragement.
Continuing Education
A couple weeks ago I posted about continuing my education and I'm off and running, trying to patiently plug along with the classical education plan outlined in The Well Educated Mind. I ordered the first novel recommended, Don Quixote, and wrote out a plan to finish this massive book by the end of the quarter. That means by Sunday, I need to be on chapter 22. Right now I'm in the middle of chapter 14. Thankfully the chapters are short. So far, Don Quixote is about the most unchivalrous knight that ever knighted. His squire (an uneducated farmer neighbor) knows way more about truth and right and wrong than DQ ever seems to. I'm working on taking notes as recommended, and it definitely helps me read thoughtfully and think about what I just read.
So for my fellow CE friends, that's where I am in Don Quixote. I'm thinking about reading the first book for the Histories category next, Herodotus, instead of plowing through all the novels and then dreading the rest. In The Well Educated Mind book, I'm half way through chapter six. If you're joining me, where are you in the process? Let me know in the comments below.
That was my week. How did you guys do? Are you working through your goals? Are you making a plan for summer? Summer reading? Or just relaxing and enjoying the days?