UPDATE 4 YEARS LATER: I still have my gospel notebook, and from time to time I add to it. (Especially when I am reading through an epistle!) I use it many different ways: When I need encouragement, I read through the "I am" or the "Christ did" sections. When I am in a rut in my prayer time, I can flip through this and find almost unlimited things to praise God for, especially through the "I was" and "why" sections. I have used it in discipling others and thinking through tricky issues in my own life by working through the question "How does the gospel speak to this issue."
What is the gospel?  A couple of years ago I realized that I didn't have a great answer for that question beyond a basic one.  And I knew I needed to spend some time thinking through a decent working definition of what the gospel is.  I wanted it to be a personal understanding that affected my life… not someone else's definition.

Step one for me, of course, was to make a journal dedicated just to this.  After adding to it for about a year, I want to share it with you because it's not only deeply meaningful to me, but it also unexpectedly became a wonderful reference tool for my prayer times, and a great go-to for when I'm discouraged or overwhelmed.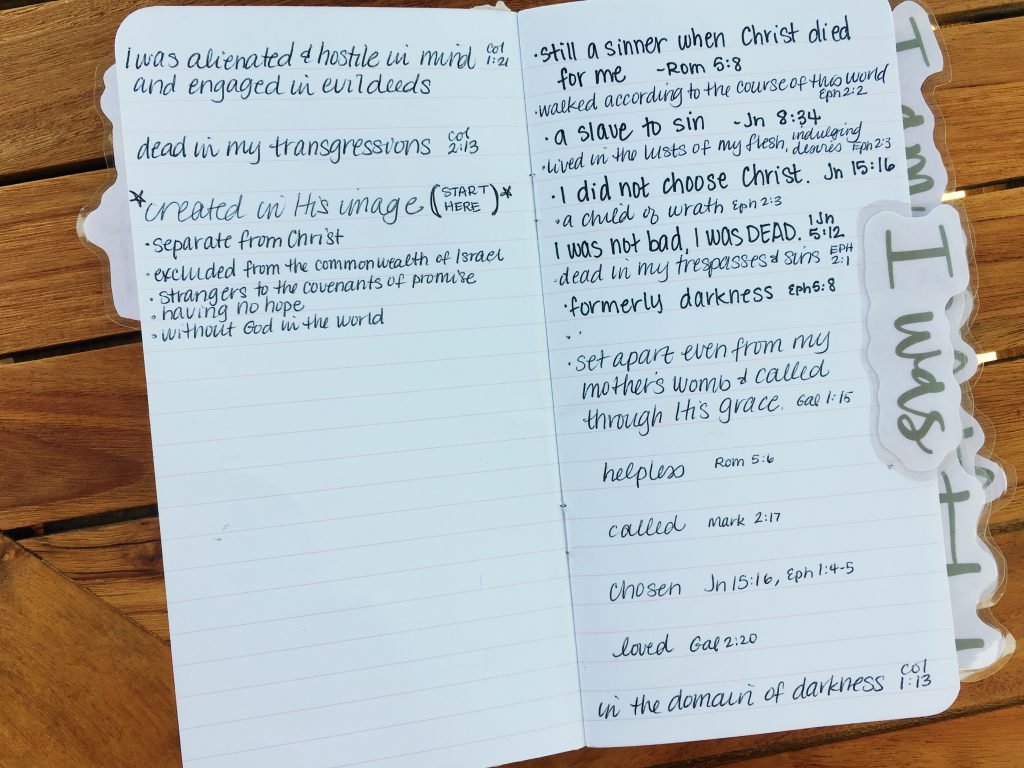 Supplies
A pretty and sturdy journal (Just a small notebook or composition notebook would be great—my first one was actually a small 5.5 x 8" notebook.  Then I made another gospel notebook with a Traveler's Notebook insert similar to these, or these that are super fun and affordable!)  Choose a notebook that is something you like, but not so expensive that you are afraid to write in it. 
Set up
Divide your notebook up into 6 sections and stick a sticky note or tab on the start of each new section for now. (Hint: you might want to make the "I was" section have a few less pages, and the other ones a bit bigger, as you can see I ran out of room and have started cramming things in where I can.)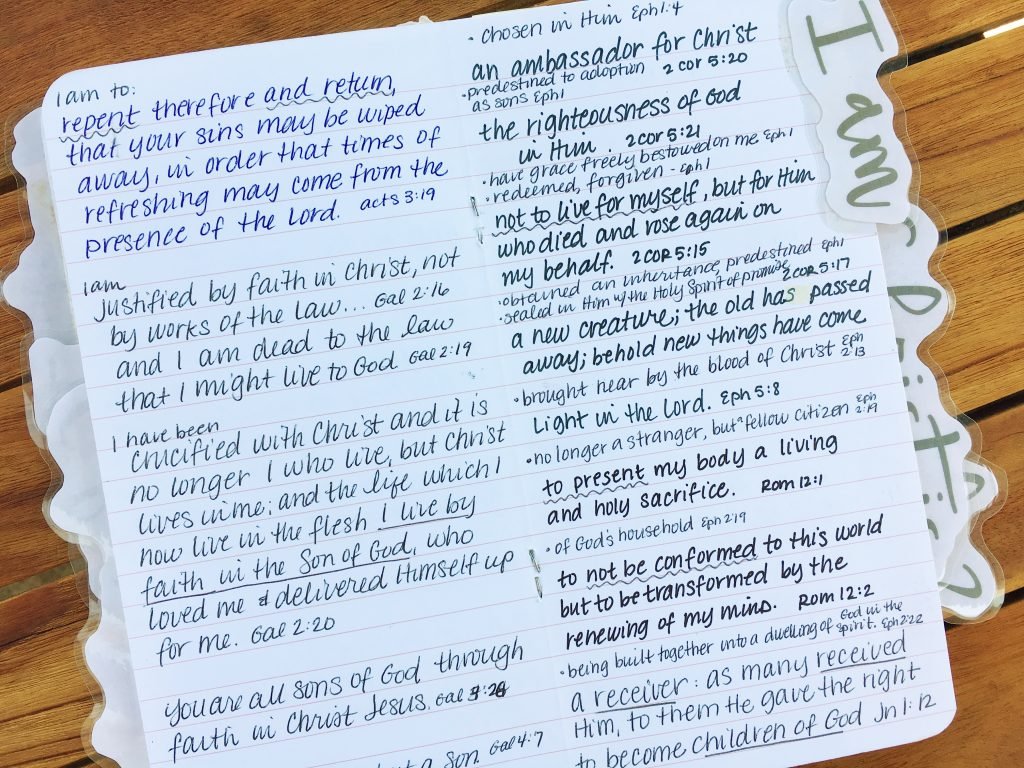 Tabs
Quotes
I was
Christ did
I am
Christ is
Why?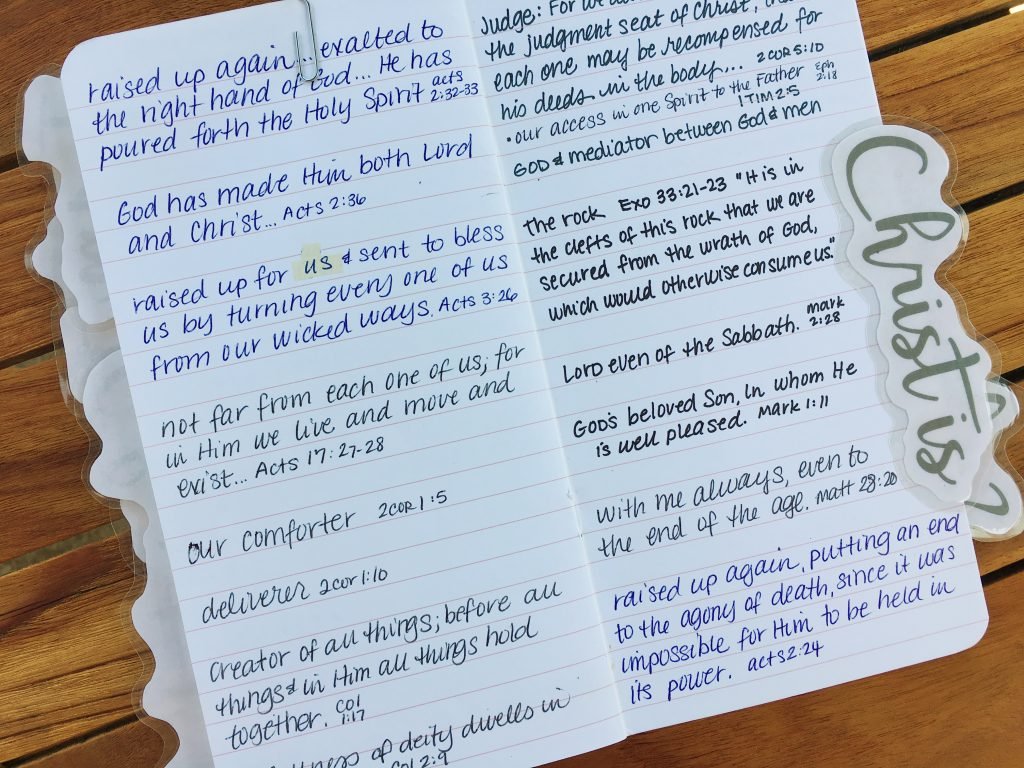 How to use your journal
I add to my journal little by little. I'm training myself to recognize when I hear something that fits into one of these categories. And when I hear or read anything that is true of the gospel, I write it on the page it seems to best fit on. 
I'll give you some scriptures to start with.  Some might fit onto more than one page, go ahead and write them on any and all pages where you think they should go.  This book is yours to do what you want, so don't get locked up with perfectionism! This is just another tool in helping you to understand the gospel and worship our God.
Here are some verses to get you started:

· Ephesians 1  (in this chapter there are truths to write in just about every section of your gospel project!) · Mark 10:45 · Romans 5:8 · Romans 6:23 · Romans 8:1 · Romans 8:32

 · 2 Corinthians 5:21 · 2 Corinthians 8:9 · 1 Timothy 1:15 · 1 John 4:10 · Revelation 5:9 · Galatians 3:13 · Ephesians 2:4-5

 · Philippians 2:6-8 · Colossians 1:19-20 · Colossians 2:13-14 · Titus 3:4-7 · Hebrews 2:14-17 · 1 Peter 2:22-25

When you are done with these verses, keep reading your Bible and finding more truths to add.  Add quotes you hear, definitions you read, and anything Gospel related to the notes and quotes section.  I keep this notebook with my Bible so every time I read I can jot down notes in it.