How I Write a Bible Study – Practical Bible Study without a Study Guide
One of the biggest questions I get from others is: "How do you get insights and real application out of the Bible?" I remember when I was younger and the boys were little and my life was hectic, that I KNEW the Bible had the answers, but HOW did I get to them? I could (and did) read the Bible. I participated in Bible study, I read Bible study books. And while I learned from that, it also meant that I was constantly looking for books to fit whatever season or trial I was going through to help me pick out truths from the Bible. I was always looking for someone else to hold my hand, who had already dug into the Bible and was able to point out to me what they learned. But I neglected the Bible because I was searching for answers somewhere (everywhere!) else.
Can you relate? Am I the only one?
This is why I started writing the Journal and Doodle Bible studies, and why I keep making different journals and guides to help you interact with the Word in different ways. But… I totally understand that even those things can be overwhelming at times. Wouldn't it be great if we could just regularly study the Bible (without someone telling us what to learn or write in the blank) and have answers to the ROOT of problems, rather than hunt for detailed how-to's to superficially treat issues?
Yes, yes it would.
And we can!
Since I'm writing a new study on 1 Peter, and since a dear friend asked me HOW I learn from the Bible, I thought this might be a nice chance to jump in and just show you the basics of what I do to learn from a book before I start writing about it. Be forewarned, it's not a glamorous process. But man, it's SO worth it! When you look up from where you are mining into the Word and see a sparkling gem peeking out from the pages, it is awesome. When you pick the gem up and examine it closely, from every angle possible, (Biblical meditation) that's when life change happens. That's when the root of the issue starts to be dealt with.
I would ABSOLUTELY love it if the women of God who struggle like I did would be able to mine out precious gems for themselves and no longer need any Bible study–mine or anyone else's–because they are going straight to the source itself!
So since my friend asked, here's a letter to her, that you get to be a part of too. Be sure to write back in the comments below if this is helpful for you and if you'd like me to continue posting about this.
How I Write a Bible Study
Dear C,
You asked me how I learn from the Bible. You asked if I have questions I ask myself to gain insights. Yes, I do, but I don't have a list of them to give you. It's actually more of a process that takes time… But not so much time that you need hours and hours each day. You can do this within any span of time, it just will take more spans if they are shorter in duration. Either way, do what works for this season of your life. (This is why I take a slow year every year or so. There is huge value in reading the Bible through in a year–like being on a train, traversing the country of the Bible– but I also really treasure a year of working in the coal mines, digging out gems too.) It is so worth it! Because when I mine a truth out on my own, without others doing the hard work, I remember what I learned and it is more potent and able to do some real, lasting heart work. DIY may not be the fastest, but you certainly get to know a lot more about the object that way!
Read the Whole Book
When I prepare to start a new book, I try to read the entire book through at least once, in one sitting. This is hard, and I honestly don't always do it, but it is great if you can focus your attention enough to understand the flow of the book. When the boys were little, and I was tired, I could never focus well enough to make sense of what I was reading for more than a chapter or two. Do what you can. If you have to read just a chapter at a time, do that.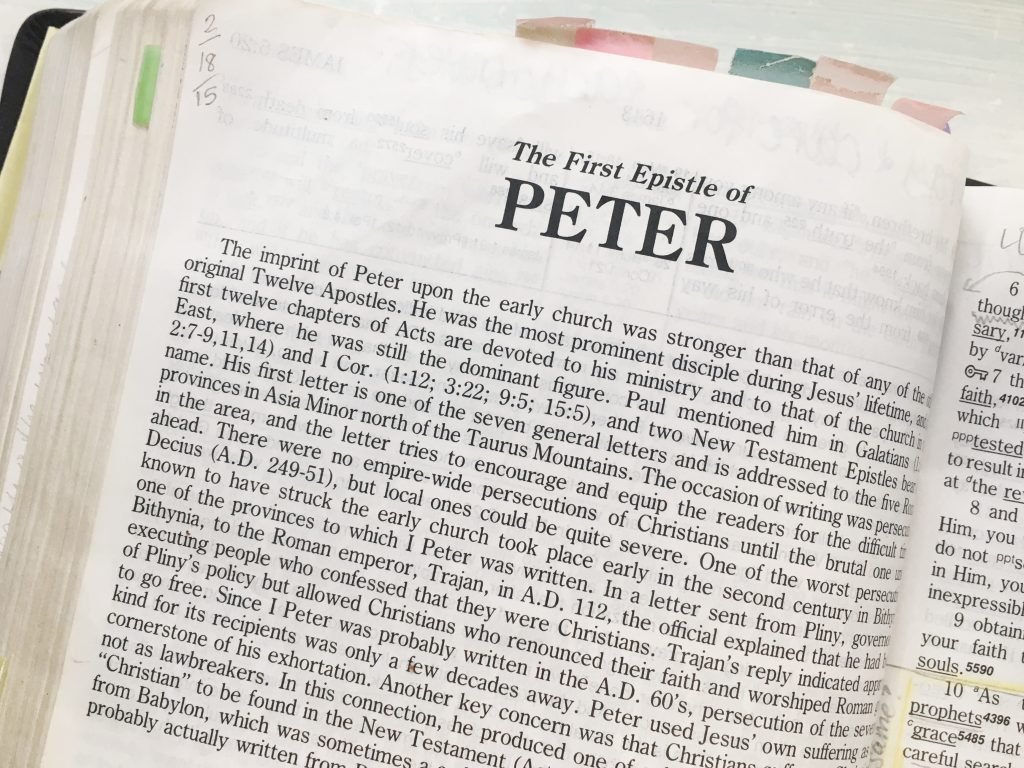 Next, look up a good overview of the book (or if you have a study Bible, read through the intro notes at the start of the book) then skim through the book, reading the column titles or headlines, so you get an idea of what the book is covering. (Obviously these are not inspired, but they were written by people who studied the Word deeply, so they are worth taking advantage of!) I usually make a journal page listing bullet points from the book's introduction, and make a list of all the headlines in the book. It's pretty cool having them all out on a page to get the flow of the book!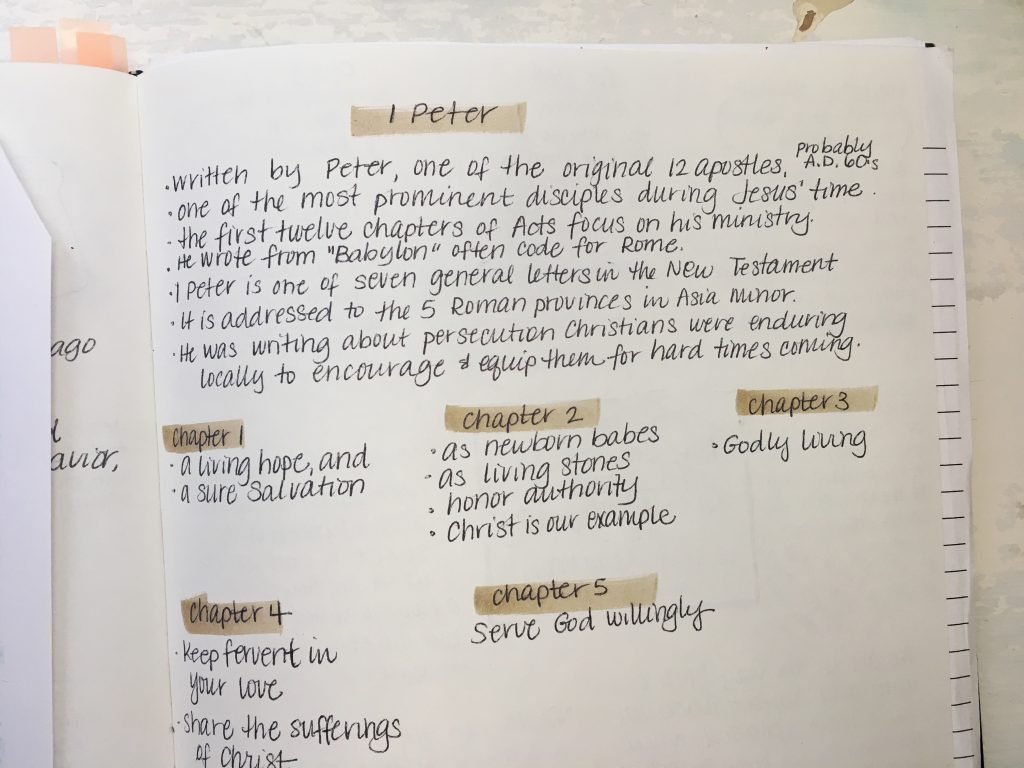 Pray for insight and wisdom
This is such a cliche thing to say and when I was taught these seemingly boring things in my early years of being a Christian (read the book, pray for wisdom), I thought, "Ya, ya, ya… get to the meat and potatoes though… what do I actually have to do to learn and fix this problem?" I wanted the Matrix download. The 15 minute podcast. The Twitter Bible. I wanted easy skills and instant knowledge. So I would hear this, maybe try it a bit, and then search for a new book with beautiful cover and clever title that promised something close to that instant skill set I wanted. I just wanted to deal with the problem that was in my face at the moment. But, the truth is, the Bible is the inspired Word of God, and you, believer, have the Holy Spirit who inspired it living inside you. Welcome Him into your time in His Word. Take time to read slowly. Allow Him to speak to you through it. Ask the best teacher in the entire universe to help you understand what He wrote. He will do it.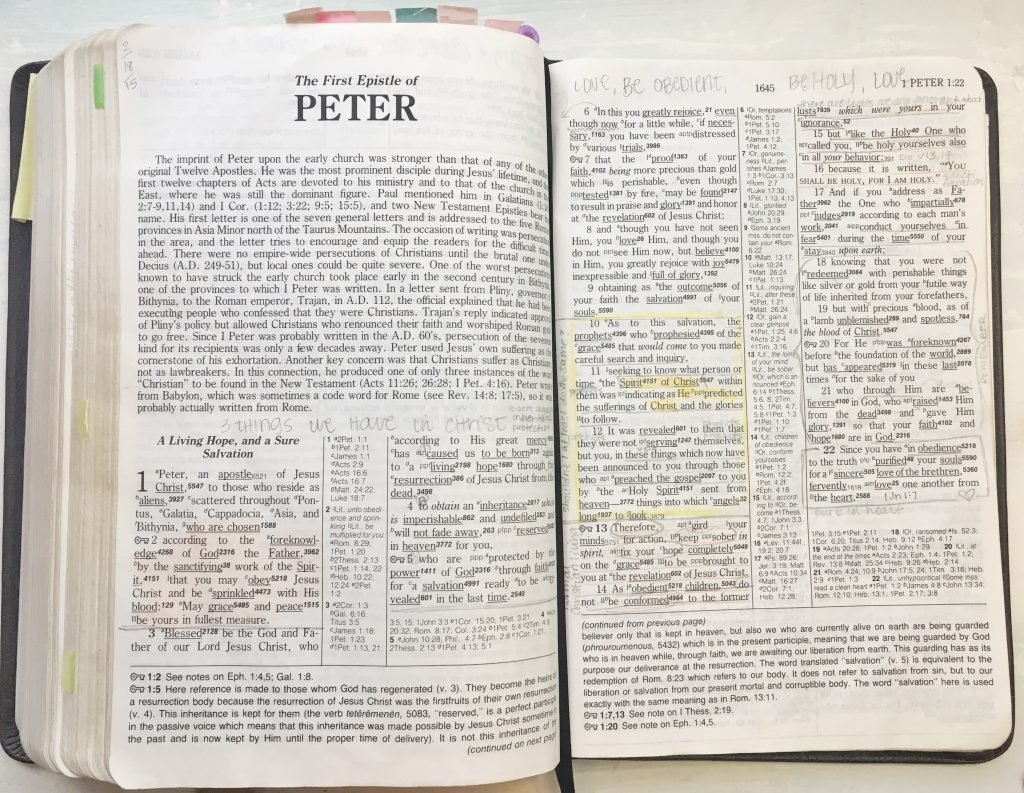 Read one chapter and look for thought breaks
The next thing I do is read through the chapter slowly, thinking through where the text changes to a new thought. When I see a break, I put a faint line in between each section. Sometimes I have to read and re-read a chapter multiple times just to do this. I'm not looking for the perfect grammatical formula, this is not an English class and there is no test and you are not required to share what you got with others (the worst!). Just take the text as it is, and where it seems that maybe a new thought comes in, just break it up there.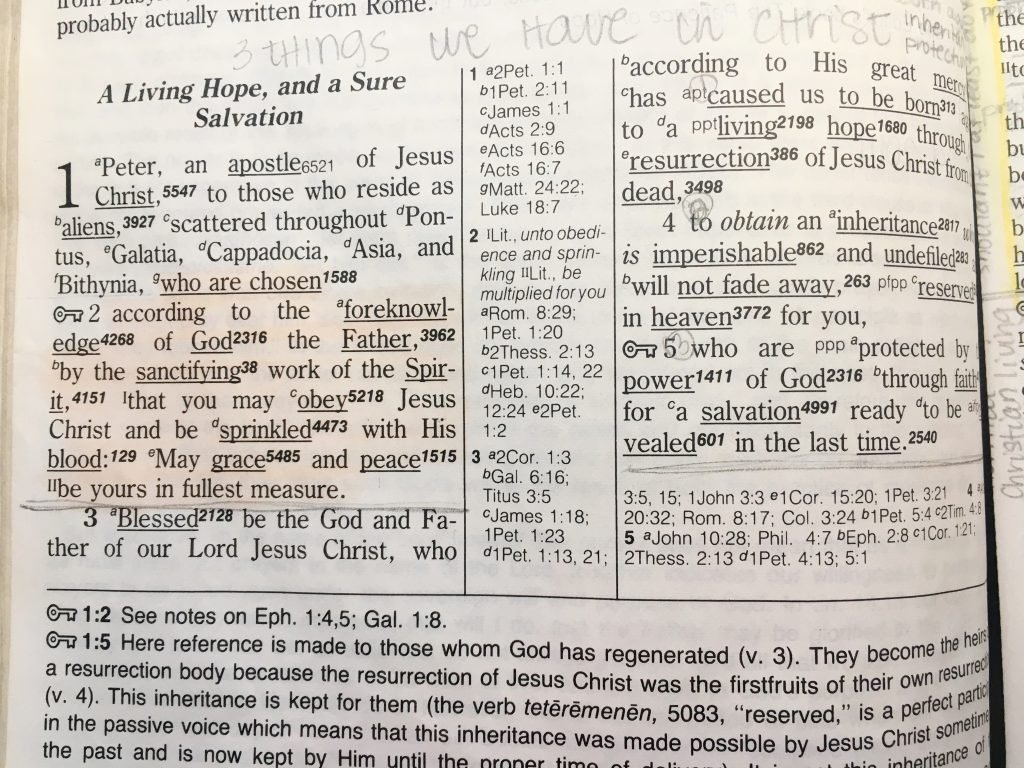 This takes a big chapter with lots of thoughts and information and breaks it down into smaller, bite-sized pieces that are "meditatable." There is HUGE value, however, in reading and re-reading that chapter as you cut it into sections. It will help you later! Don't rush this process, enjoy it.
So, C, that's all I'll write in this letter. I encourage you to find a short book, and test it out. Start with reading it though, praying over it, summarizing it, and breaking it up. Write back soon and let me know how it goes. I'll write more later with next steps if you'd like.
Love,
Me
And to the rest of you, write back too! Let me know how you have approached Bible study in the past, what your frustrations have been, and if you try this out, let me know. If it seems like this might be a valuable topic, I'll make it into a series. Let me know!
Lots of love,
Kari

P.S. The Bible I use is this one, and the journal I use for studying a book is this one. But use whatever you have!