Pure in heart and the sandy Oregon coast
If you've ever been to the Oregon Coast on one of the first warm spring days of the year, you'd most likely be dressed in layers, with a thick hoodie (standard Oregon Coast beach wear) and jeans rolled up to your knees so you can walk near the water's edge as the waves ebb and flow. I have spent many a spring and summer day at the coast dressed exactly like this. And the biggest natural phenomena that occurs after this is seeing the crazy volume of sand that all those folds can hold when you get back to your car. There's buckets of sand in your jeans cuffs and rolled up sleeves. There's sand in your hair, your ears, (your mouth, if you've been smiling) and sand blasted into the very fibers of your clothes.
Working through the chapter for "Blessed are the Pure in Heart, for they shall see God" showed me that the Christian life is a lot like a walk on that windy beach. As Dr. Martyn Lloyd-Jones expounded on this Beatitude, he showed that the state of my heart is always God's primary concern. A pure heart is what Christianity is all about, because it is the fount from which everything comes. The heart is my mind, my will, and my affections and emotions. My heart (all of me) is being blasted with sand (sin) from the world. It comes in all directions, at all times, and tries to fill every place.
As I finished the chapter and started working through the workbook, things really started to get painful. See, it's normal for me to read a chapter, have a twinge of conviction, and not really know how to put it into action. I have a vague "try harder to have a pure heart" notion, but how do I do that? I guess, pray about it, then wait for it to show up in my life? That model fails every time. I need tangible, concrete, rubber-meets-the-road clarity in order to have any hope of change. And I need it specifically for me, in my season of life. Books where others talk about what worked for them sometimes help bring clarity, but most of the time that is just like I'm putting on someone else's ill-fitting, sandy hoodie and continuing the trudge along the windy beach.
What I really need is time in thought. Time to consider all the ways that not being pure in heart might show up in my life and what things cause or come from an impure heart. That's where the workbook comes in: it forces me to take the time to think. And to think about what Christ is asking of me and what that specifically looks like in my life right now. What does it really look like for me to live how Christ is calling me to?
The first step is defining terms. "Pure" means single-minded, without folds, undivided. Then, as I was defining "heart," I realized Jesus is calling Christians to be undivided and without folds in EVERYTHING. Since the heart means the center of my physical and spiritual life, He is calling me to be pure and undivided in my mind, my intellect, my will, my character, my everything. You want to know what that means? All of me. All the time.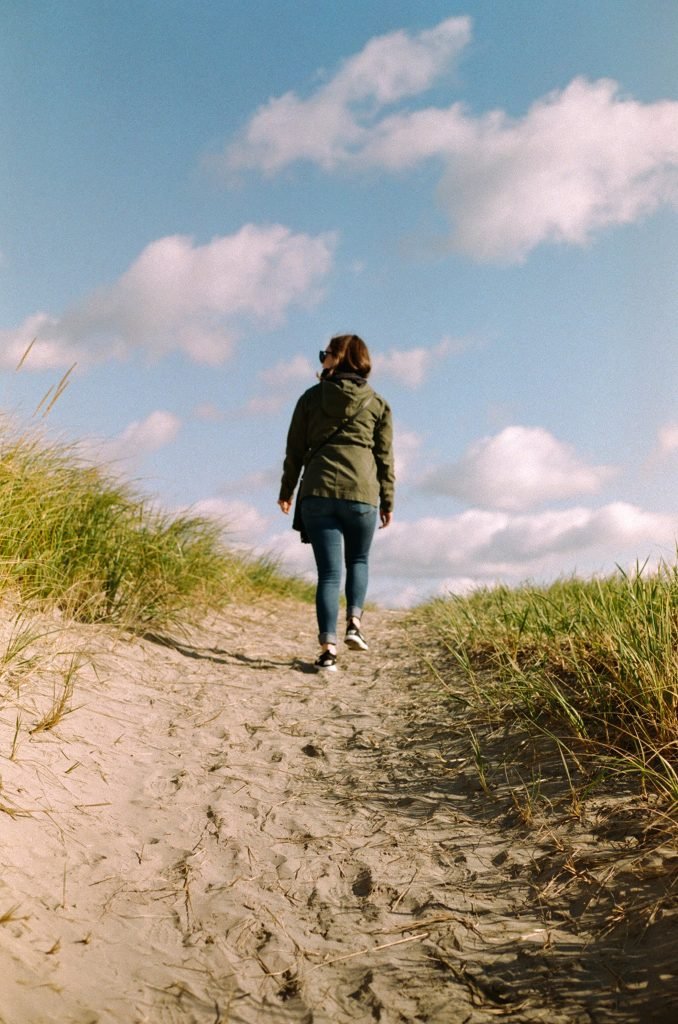 Pure in my emotional responses, especially when I'm offended or have my feelings hurt
Pure in what I love and spend my time devoted to
Pure in my spontaneous emotions–anger, fear, joy
Pure in the deepest part of me, the very middle of my worship of God
Pure in everything I do in the physical world
This is overwhelming. Not only am I getting blasted from outside with sand, Scripture tells me my own heart is a sand (sin) factory. Blasted from outside and from inside. Can you even imagine all the work that would have to be done if I was to "try harder to be pure in heart?" There is NO WAY it is even possible! There is no hope of ever reaching that goal. I had always thought the truth of this Christian life is we struggle, it is miserable and never ending, and it'll get better in heaven.
But, this beatitude is telling me that I am called to have a pure heart. I'm bombarded from outside and have a traitorous heart working inside and THERE. IS. SAND. EVERYWHERE! I am stuck in Romans 7–I know there is nothing good in me, I have the desire to do good but I don't, there is a waging war. I see my divided heart at work in my habits ("I love God, but it's okay, I can watch this show, I can read this book."); in my relationship with God ("I want to spend time with God, but life is too busy right now, I know He understands."); in my thought life ("I love God, but I need time to take care of myself right now."); in my hurts ("I love God, but that person really hurt me, deliberately, so I can't forgive them."). The world shouts lies, my heart repeats and builds on those lies, I'm torn between love of God and love of self… and the wind and the sand pick up.
I need to get to Romans 8! I need to be set free from this body of death! "There is therefore now no condemnation for those who are in Christ Jesus." Pure in heart is not trying harder to be perfect, it's not even trying harder to be pure in heart! Praise God, it is me, covered with and full of sand, coming to Jesus and unfolding all the folds. Letting the sand in the folds fall out all over the throne room floor, and asking Him to brush out the creases, to lay them flat. It's holding up my sin factory heart and asking Him to fix it, to renew it. The more often I do that, the less sand accumulates. And because I'm not managing the sand, my mind is instead set on the Him, He makes my heart pure, undivided, single-minded! Confession and repentance and all of me focused on Him.
Oh, how thankful I am for the wisdom of the Doctor and the grace and goodness of God to send His Son to show us how to joyfully live this life! Jesus calls us to simply unfold the folds before Him.
Blessed are the pure in heart, for they shall see God.
If you want to see how the Beatitudes can change you, the Workshop is on sale right now and I've extended the half off sale (only $15!) for one more day! To learn more or join click here: