My 2023 Bible reading plan
This year I knew I had to start another Bible read-through. Last year, I read different books of the Bible and bounced around here and there. It proved, again, to me that I do much better with a systematic reading plan. But, I also didn't want to get bogged down with reading to catch up and feeling behind when I'm following a one year reading plan.
So I looked into some of the plans I have used before and enjoyed like this free five day reading plan, and a two year reading plan (with catch-up days!) and a whole slew of other plans, all of which look great. And, I STRONGLY encourage you to pick a plan for this year, however fast or slow and stick with it!
But, I remembered a video I shared a short time ago, and heard one of the speakers, Mack Tomlinson, shared how he read the Bible (31 minutes in). He read 2 chapters in the Old Testament, 2 Psalms, 2 in the New Testament, and 2 in Romans. That was a little much for me, but I thought I could so something similar, but simpler. So I plotted and started towards the end of December and will continue this year. Here's the plan:
I'm reading 1 chapter in the Old Testament, 1 Psalm, and 1 chapter in the New Testament.

After reading each chapter, if there's a verse that stands out, I write it down in a small notebook.
After that, I reflect on each one. Sometimes that might be working through a short meditation list where I ask and answer what this verse (or verses) show me about:
God (How can I worship or praise Him?)
My sin (What do I need to confess?)
His grace (His lovingkindness, His forgiveness, His strength)
My need (Ask Him for what I lack.)
My life (How can I apply this specifically to my life today?)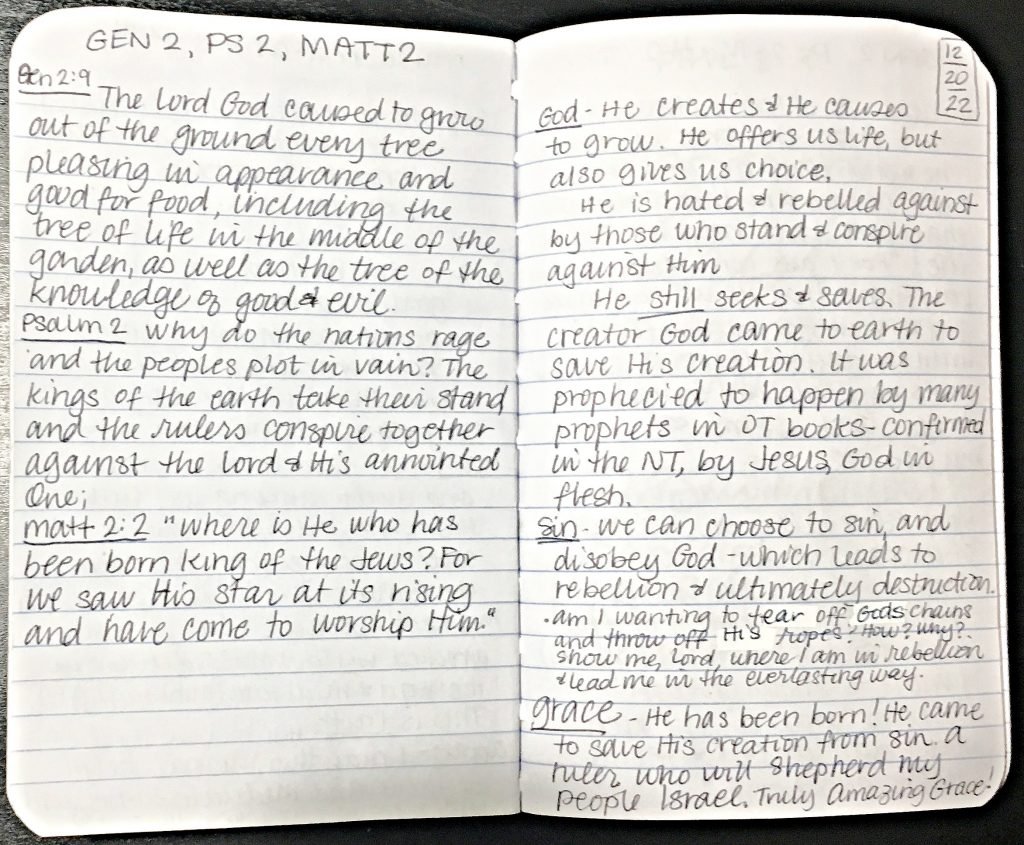 Sometimes if there's a term I'm familiar with, but need to flesh out what it actually looks like, I'll write out the verse then make three columns in my notebook asking and thinking on what this term looks like when it's neglected, when it's casually or occasionally done, and what it looks like when done deliberately. This has given me some really powerful and convicting insights and leads to confession and petition almost automatically.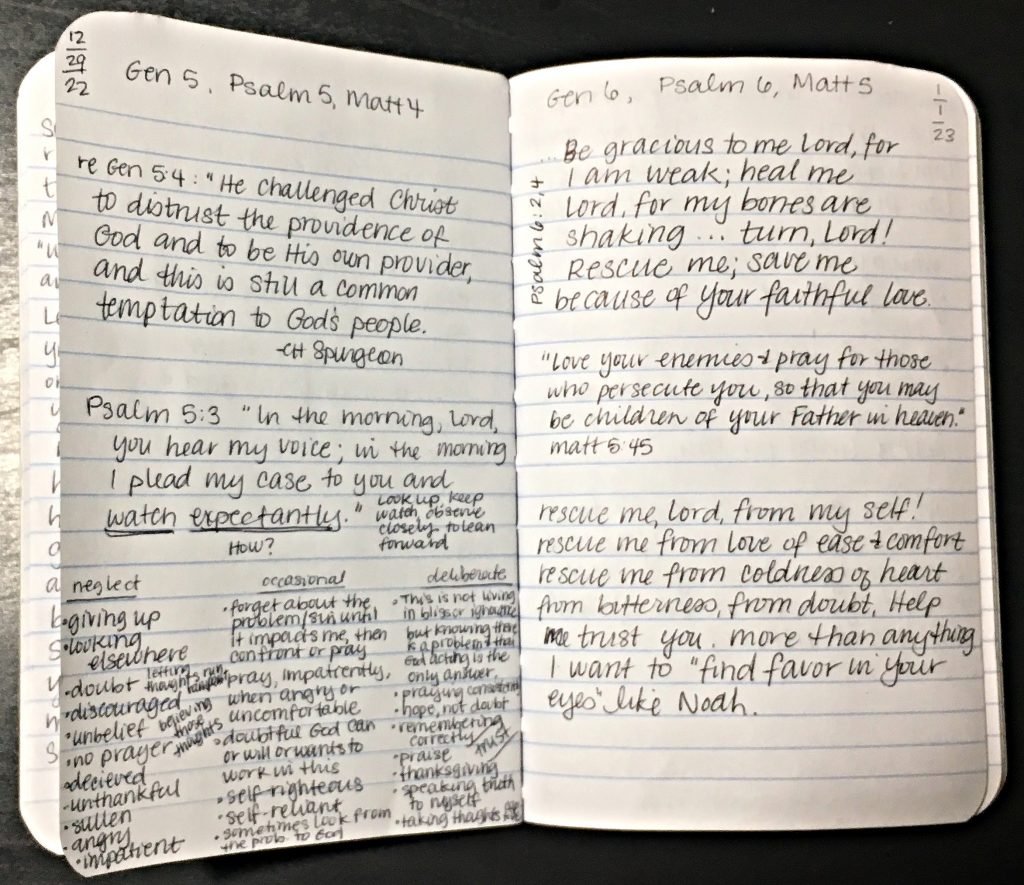 And sometimes, I just write out what I find out about God in a verse or section of verses.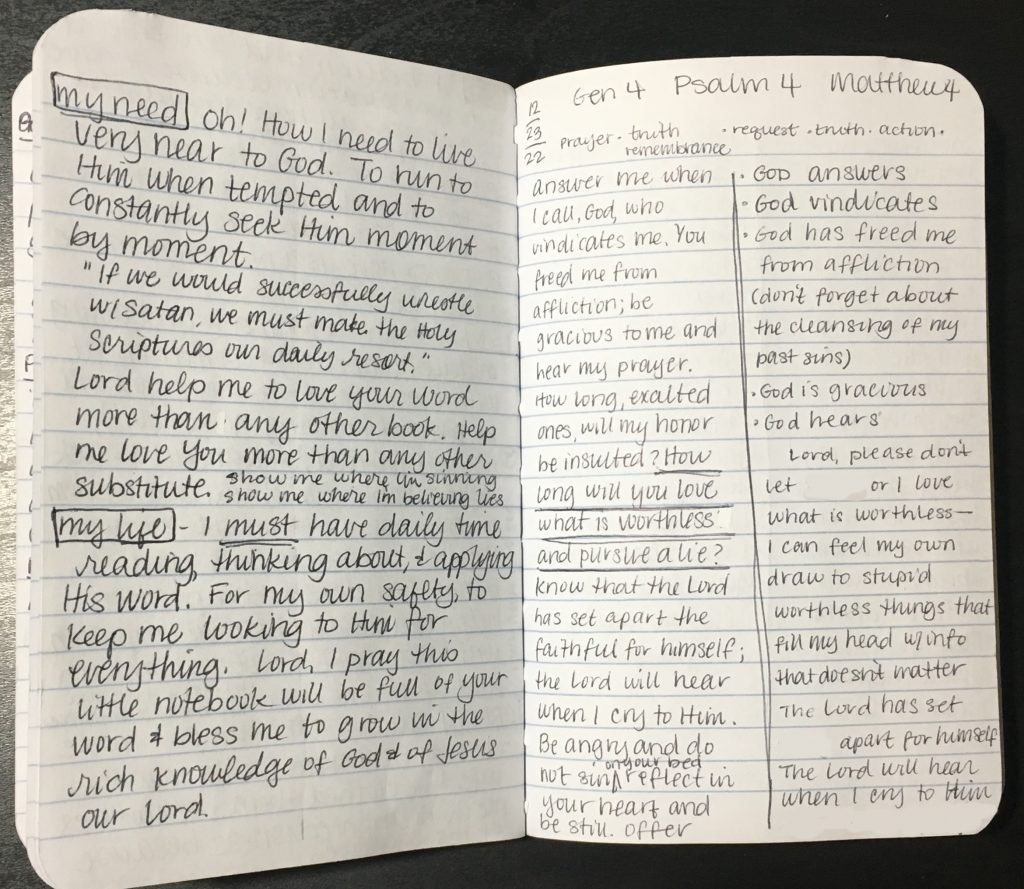 But the main thing is, I'm going slow this year but with an organized system. I know how important it is to my spiritual growth to read the Bible in its entirety, and also know that a reading checklist to get me through in a year isn't what I'm looking for this year (but there is definitely value in that, and I may return to it next year.)
What are you going to do for your Bible reading this year? How will you be sure to stop and meditate on what you're reading?