Morning Devotion in the 1800's
As many of you know, I've been working hard on retyping and editing a wonderful memoir from the 1830's. (I still need help proofreading, if you could help, see this post, it's not a big commitment at all, and you get to read the entire book for free as I type it!) As I've been researching her world as I work, I've found some fascinating books she references and writings of Christians who lived and followed Christ in the same time as her. One of the authors I recently discovered was a prolific writer and author, Harvey Newcomb. He wrote a huge number of books for practical Christian living and one in particular I've been reading is titled The Closet, Being an Aid to Private Devotion. (You can get the entire book as a digital copy for free through that link.)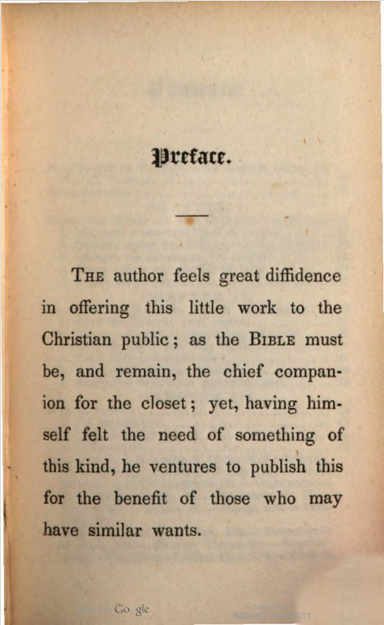 In this book, toward the middle, there is a chapter titled "Dr. Doddridge's Directions for Daily Devotion." In this chapter Dr. Doddridge broke down a profitable way to start your day with God that would take about a half an hour to 45 minutes. I read through it and thought I'd give it a try this week. Here's the summary:
Lift your heart to God as soon as you wake and as you are rising out of bed.
Thank and praise Him for the gift of sleep, security, warmth, clothes, the sun rising, useful sleep while the sun was absent, friends, family, learning, the hope of heaven, etc.
After rising [while keeping your mind steadily on God], begin devotional time on your knees, in prayer, quietly out loud, acknowledging the Father's mercies, Christ as the foundation, and the influence of the Spirit. Conclude with an express renewal of your dedication to God.
Ask and answer the questions of the day: How shall I employ myself for God this day? What business is to be done, and in what order? What opportunities may I expect, either of doing good or receiving good? What temptations am I likely to be assaulted with, in any place, company, or circumstances? In what instances have I failed lately? How shall I be safest now?
Ask for help in these areas through prayer.
Read a small portion of the Bible, maybe 10 -12 verses that are useful for devotion.
Close the time with a psalm or hymn.
He also shares some tips to help:
Be thoughtful toward what you are doing and who you are addressing: a perfect God.
Maintain strict watchfulness of mind and stop wandering thoughts as soon as they start.
Immediately when done, reflect on the manner of which I did this. [Was it cold and formal, distracted and disinterested, or thoughtful and focused as standing before a holy God and loving Father.]
He goes on in this chapter as to how to continue your day with God through your work, recreation, comforts and afflictions. But I'll post more on that later. For this week, I'm going to focus on implementing just the morning thoughts and experimenting with that. I summarized his directions on a 3×5 card and will use it every morning this week.
Any of you want to join me? I'll post a follow up blog post with thoughts and reflections that you're welcome to add to in the comments. I always love to read other people's thoughts in the comments and I know it will help so many other women to read more than just my thoughts!