Already joined? Click here to enter the workshop
Introducing
The Beatitudes
Study the true depth of the opening words of Jesus' longest sermon with Dr. Martyn Lloyd-Jones.
The late Doctor (1899-1981) was trained as a medical doctor, which he gave up to be a minister in London, England. He had incredible knowledge and insight into the Scriptures, and because of his brilliant medical mind, he was able to diagnose the root causes of sin in the Christian's life. But, he also had a gift of applying Scripture directly to the issue in a way others rarely have.
In this workshop we will learn what the Beatitudes actually mean, and what Jesus calls each one of us to be.
Your time invested with the Doctor in the Beatitudes will be some of the most valuable time you will spend in the Scriptures.
Meet the Teacher
Dr. Martyn Lloyd-Jones
Doctor Martyn Lloyd-Jones was the highly acclaimed pastor of Westminster Chapel for over 30 years. He was trained as a medical doctor then felt the call of God to become a preacher. He was often referred to as "The Doctor" by the people he ministered to because of his ability to understand the root cause of a problem and how to treat it. He started his career healing bodies as a medical doctor, then spent decades healing souls with the gospel of Jesus Christ.
"Martyn Lloyd-Jones was without question the finest biblical expositor of the 20th century. In fact, when the final chapter of church history is written, I believe the Doctor will stand as one of the greatest preachers of all time."
-John MacArthur
"My two favorite preachers now in glory: Charles Spurgeon and Martyn Lloyd Jones. Read them well." -Paul Washer
"Expository, discerning, diagnostic, soul stretching, mind stretching, life changing preaching." -Sinclair B. Ferguson
"I've heard the Beatitudes a thousand times and thought they didn't apply to me. Jesus was talking to the peacemakers, those who are grieving, and the pure in heart. That's not me…"
That quote up there? That's what I used to believe. I thought Jesus was pointing out and rewarding those people who were naturally poor in spirit, meek, and merciful.
But since I wasn't any of those, these Beatitudes weren't directed at or applicable to me.

In this workshop you will discover, like I did, the true meaning of Jesus' words, and how to apply them specifically to your life.
What's included: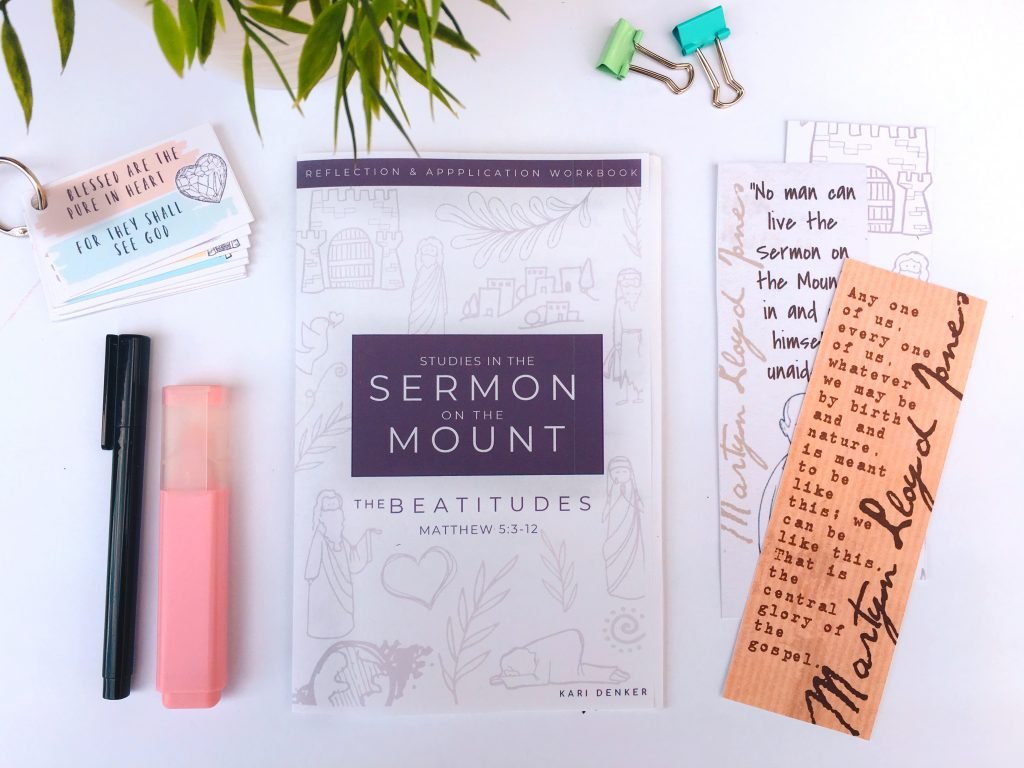 Digital PDF printable 48 page workbook
Weekly video review with weekly bonus items
One full year access to the class
(You will need to purchase the "textbook" Studies in the Sermon on the Mount separately. However there is a free online digital version available if you don't mind reading online.)
What do I need to do to join?
Purchase your textbook Studies in the Sermon on the Mount if you want a hard copy of it. There is also a free online version that you can find here. We will use this book for this workshop and the other three workshops that will be coming soon.
Click the button below to purchase the workshop and access workshop pages.
Print out your materials. (These will be sent to your inbox after purchase. Easily understandable printing instructions will be included.)
FAQ's
Q: How long is this class?
This class is 13 weeks long and will take you through the first 13 chapters of the book. There is no start or stop date, it is all on your own time, not with a group, so no pressure to meet any deadlines or rush through!
Q: Do I have to buy the book?
You can buy the book new or pick up used ones for a fraction of that cost. There is also a free version online that you can access here: https://booksvooks.com/studies-in-the-sermon-on-the-mount-pdf.html (but cannot print out). Also, remember that this book will take you through this class plus the other three to come!
Q: I don't have a printer. Can I buy a hard copy of the workbook and other items instead of the digital version?
Unfortunately, we don't have the ability to sell hard copies right now. However, you can upload the file to an office supply store to print for you at very little cost.
Q: I'm not very techy. Is it hard to print the workbook in booklet form?
Actually, with just a couple simple steps that are included in your download, the workbook automatically prints in booklet form. The detailed printing instructions and pictures help make the process smooth and easy.
Q: Do I need any other supplies for this class?
You will need a Bible (the book refers to the KJV translation, but any equivalent translations will work just fine), and if you decide to keep your workbook in a mini 3-ring binder, you'll need one of those too (but you have the option to fold and staple the workbook instead).
Q: Do I get college credits for this class? Is it graded?
No, this class is for your personal enrichment and sanctification. There are no credits or grades given.
Q: How much time will it take each day?
It depends a lot on your reading speed, and how much time you take answering the application questions in the workbook. On average, give yourself 30-45 minutes to read the chapter, and an hour or so to fill out the workbook. I usually break this up throughout the week, reading as I can and answering a couple questions a day.